Fatimat Haliru —
PERTINENCE, a leading real estate company in Nigeria and domiciled in Alimosho, has released Oneapp, a web application designed to make real estate assets more accessible to people of all economic backgrounds and walks of life.
The launch of the app, which was hailed as a groundbreaking fusion of real estate and technology, took place at the company's corporate headquarters in Lagos on Thursday, March 9, 2023.
Speaking at the launch, Mr Tunji Ademuyiwa, Head of Technology at Pertinence Group, said Oneapp was developed to offer a variety of services, beginning with land purchase, with flexible financing options and plainly stated terms and conditions, so that anyone can make decisions about investing in real estate with adequate knowledge.
In his words, "Being a tech-forward business, Pertinence has worked on a few tech initiatives like Realvest, Homify, and Real Max. Now, we want to combine all of these distinct functionalities into a single platform where users can access everything real estate.
"By everything real estate, I mean land, houses, rentals, and leases, whatever it is as long as it's real estate, we want to have it all in one spot, that's why we dubbed it Oneapp."
Ademuyiwa, who also serves as the CEO of Datafirst Technologies, stated that signing up on the app was free and easy and that customers could access a variety of real estate products right from their dashboard. He continued by saying that instalment payments were also supported by the app, adding that a user could choose to sign up as a realtor and receive commissions from sales made by customers that register under them.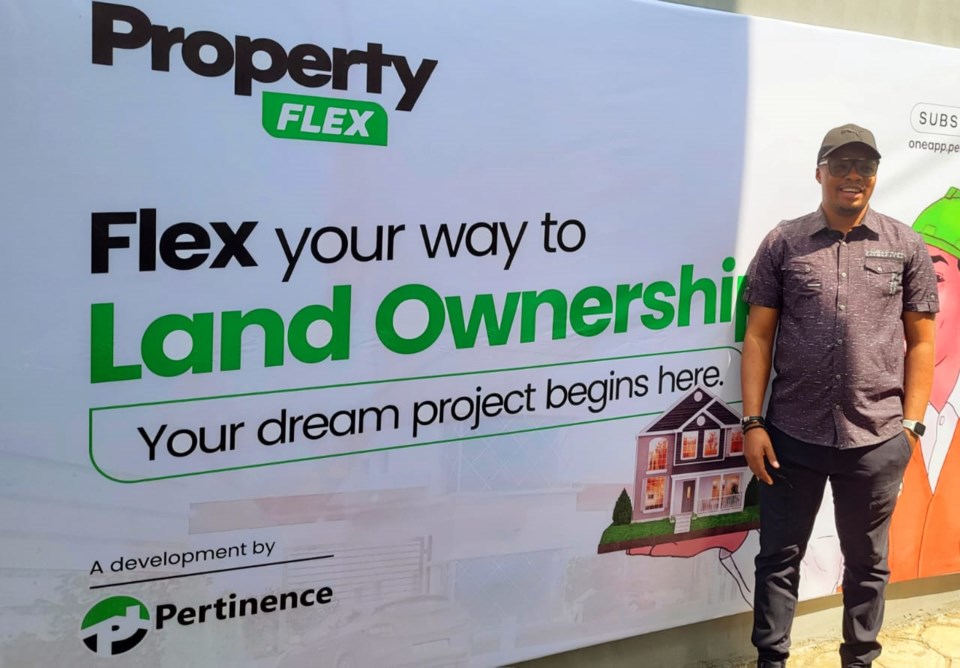 Meanwhile, a flexible property-ownership package called Property Flex was also introduced alongside the app. The company claimed that while being a fantastic investment, real estate had historically been out of reach for people with low incomes, including students, corps members, young workers, and small business owners, which is why Property Flex was created.
Commenting about the package, Dr Sunday Olorunsheyi, Co-Founder of the Pertinence Group, acknowledged that although the concept of flexible payment for properties had since gained traction in the real estate industry, the introduction of Oneapp would streamline the procedure and make it easy for more people to jump on the train.
He said: "When we first entered the business world more than ten years ago as Pertinence, we made it clear that our company's focus would be on people empowerment and enterprise development. The story is crystal evident if you look at our trajectory. At every stage of our business, we have always focused on finding methods to empower people.
"At this time, we realized that although more people would have been interested in real estate investing, doing so would have been extremely difficult for them given the high price of purchasing real estate. So, we made the decision to create a flexible payment strategy that would motivate them to board the real estate bandwagon.
"The primary difference between our flexible payment plan and those offered by many other real estate firms is that our technology makes it simple and smooth for subscribers. So, our goal with Property Flex is to free investors from the need to make a sizable upfront commitment by enabling them to buy, hold, and sell land at their own speed. No matter their financial situation, we think everyone should be able to participate in real estate."
On his part, Mr Wisdom Ezekiel, Co-Founder of Pertinence Group, stated that the introduction of Oneapp marked the beginning of the end for conventional methods of sealing real estate deals. He stated that customers would no longer need to go to the company's office to pick up payment receipts and other papers; instead, everything would be available to them on their dashboards.
Ezekiel revealed that Oneapp had been in development for about a year and is now available to the public. He added that the app had received positive feedback from the real estate industry, with many individuals applauding the platform for its capacity to democratize real estate investing.
He continued: "Oneapp is an emerging concept. We are only starting with the first phase of the tech today. We believe One App is capable of much more, and in the coming months, we intend to make the public aware of a great deal more.
"What we hope to accomplish with Oneapp is for us as a real estate company to have an app that manages everything about land purchase, home ownership, rentals, and leasing, such that a client from anywhere in the world can get onboard Oneapp and doesn't even have to visit our office but be able to do everything including payment for properties and allocation of the same from the comfort of their home."
Also present at the launch were real estate agents, staff and stakeholders of Pertinence Group, as well as other guests who graced the occasion with lots of excitement.