Abuja - August 30 - (Viewpoint Housing News) – The Director of the Nigerian Hydrological Services Agency (NIHSA), Clement Nze on Tuesday in a conference in Abuja, the country's capital, confirmed the decision of the Cameroonian authorities to stop the spilling of excess water from the Lagdo Dam, downplaying public apprehension caused by widespread reports of possible flooding in the country.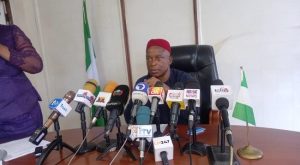 Nze said flood occurrences in major parts of the city and coastal areas were largely due to excessive rainfall and flash flooding, as a result of climate change.
While revealing that severe flooding with attendant damage and deaths could be minimised if relevant authorities take responsibility for preparedness, and ensure that buildings are not structured on flood plains areas, he said annually, neighbouring Cameroon releases water from Lagdo Dam in its northern region, causing flooding downstream in Nigeria.
It may be recalled that at the time of the dam's construction, in the 1980s, the two countries agreed that a twin dam would be built on the Nigerian side to contain the overflow, but the second one was never realised.
According to him, the release of excess water from Lagdo Dam was a normal reservoir operations to forestall possible collapse of the dam.
He said water releases are integral to safeguarding dam integrity and mitigating flooding in adjacent communities.
"The Lagdo Dam is located on the Benue River in the Niger Basin. The Cameroonian authorities commenced release of excess water from Lagdo Dam by 10.10am on August 14, 2023.
"The release of water from the dam commenced at the rate of 200 cubic metres per second, which is about 18 million cubic metres of water per day.
"By August 25, 2023, the water releases from the reservoir has reduced to 50 cubic metres per second, which is a normal reservoir operations and far negligible to cause any flooding downstream.
"However, by 5.16pm yesterday, August, 28, 2023, the hydrologist in-charge of the dam notified the Director General of NIHSA that they stopped spilling water by 11.00am that same yesterday."
The director general said the agency would continue to monitor water flows in rivers Niger and Benue, saying readings by the agency showed no threat of floods.
He said NIHSA was saddled with the responsibility to provide data for sustainable management of the nation's vast surface and underground water resources, in partnership with key stakeholders.
He urged states to complement Federal Government's efforts by sensitising their populace on flood disaster prevention, saying government cannot do it alone.
He also called on states to clean up their drainage systems, construct more, and sanction those flouting the building codes, saying this was necessary to prevent disasters.
Speaking on the Dasin Hausa Dam in Adamawa State, which was meant to be a buffer dam to prevent floods whenever Lagdo Dam releases excess water, Nze said its study and design had been completed.
He said the Federal Ministry of Water Resources and Sanitation had contacted the consultants, adding that procurement would commence in no distant time.
On dredging of rivers Niger and Benue to curtail excessive flooding, the director general said it was an expensive venture and would require desilting, saying if done properly, it would recharge groundwater in many locations.
The 32 states and the FCT, which are within the Highly Probable Flood Risks Areas, include: Adamawa, Abia, Akwa-Ibom, Anambra, Bauchi, Bayelsa, Benue, Cross- River, Delta, Ebonyi, Ekiti and Edo.
Others are Gombe, Imo, Jigawa, Kaduna, Kano, Kebbi, Kogi, Kwara, Lagos, Nasarawa, Niger, Ogun, Ondo, Osun, Oyo, Rivers, Sokoto, Taraba, Yobe, as well as Zamfara and the FCT.