Abuja - August 22 - (Viewpoint Housing News) – Newly inaugurated Minister of the Federal Capital Territory (FCT), Nyesom Wike, yesterday confirmed that all illegal structures will be demolished in the FCT as part of efforts to restore the Abuja Master Plan.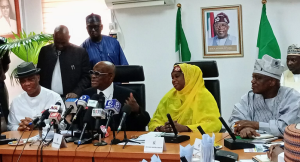 Wike gave a short, medium, and long term plan to overhaul the FCT and compete with the best cities globally.
"It is not going to be business as usual, the immediate past Rivers state governor said.
"Those distorting Abuja Master Plan, if you build where you are not supposed to, the building will go down.
"If you build on a green area, sorry, it will go down. Those who were allocated land and refused to develop them, we will revoke such lands and re-allocate them to those who are ready to develop them.
"Those who don't pay ground rent, we will not notify them to do so, but I will not be tired of signing revocation notices.
"Uncompleted buildings that have become a safe haven for criminals will be reclaimed by the government and put them to good use."
Mr. Wike while also adding that the government would no longer tolerate the indiscriminate operation of markets and motor parks by the roadside, he said that hawkers under roadside umbrellas, illegal motor parks and bus stops would no longer be tolerated.
"They constitute part of the security challenge in the FCT. If you have a brother, sister, or uncle involved in any of these, please tell him that the time is up. The goal is to sanitise Abuja and make it safe for everyone", Wike revealed.
He also said that efforts would be made to strengthen waste management and restore all traffic lights to keep the city clean.
He added that motorcycle and tricycle operators would be banned from the city and put an end to open grazing within the capital city.
"We will consult with stakeholders, the natives, and herdsmen to address some of these problems, including open grazing.
"We will provide alternatives to reduce the suffering of the people, particularly those without private vehicles.
"We will bring back mass transit to improve access to public transportation, and therefore, the person in charge of transportation must keep his record clean," he said.
He said that emphasis would be placed on infrastructural development, taking one project at a time to restore the city to its glory.
The minister said that development would also be extended to the six Area Councils as part of strategies to decongest the city.
He also said that all revenue leakages would be blocked to be able to mobilise the needed resources for infrastructural development in the FCT.