Asaba, July 24 (Viewpoint Housing News) – Governor of Delta State, Sheriff Oborevwori on Sunday in the state capital, said his administration plans to demolish all structures on waterways to tackle the menace of flooding in the state.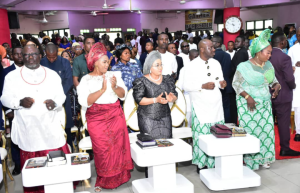 He promised to restore the lost glory of Warri, Uvwie and its environs through massive infrastructure development, explaining a recent video he said was sent to him on the flooded Airport Road in Warri, a locality in the state caused by structures "built along waterways".
"They have also blocked drainage channels with refuse, but I can assure you that drainages in Warri will be taken care of and flood will no longer disturb our people when we are through, he said.
Also read
:Delta State Partners Building Materials Major Distributor
:Delta State Signs N270B Deal With Housing Dev. Firm
"We will rebuild infrastructures in Warri with good roads, flyovers, drainages and street lights and we shall restore the lost glory of the oil city.
Oborevwori showed excitement in joining the Speaker of the state house of and his family in thanking God for his elevation as number one lawmaker in the state. He said God is always pleased when men give Him thanks.
"For you to survive as speaker, as a leader, you must be humble, transparent and accountable and it is on record that I paid N530 million into the treasury and I also left money in the coffers of the State House of Assembly.
"There is no House of Assembly in the country that has done what I did and it is my prayer that you succeed and perform better than I did.
"I survived six years as speaker because I had a good Governor who listens and I urge you to always do the right thing despite pressures.
"As governor, I am committed to the welfare of the legislature and we will work together to make life more meaningful for our people," he said.