Aminat Yahaya —
The Head of National Emergency Management Agency (NEMA), Minna Operations Office, Hajiya Zainab Sai'du has organised a community-based sensitisation on the implications of the 2023 impending flood in Niger State.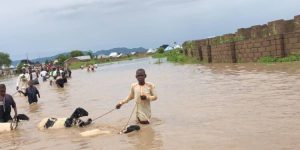 Hajiya Sai'du, who spoke at the sensitisation exercise in Maikunkele community, Bosso Local Government Area, said it was to alert flood-prone communities to enable them to make informed decision.
Sai'du, who was represented by Dr Zainab Ndanusa, Head, Disaster Risk Reduction Unit in the agency, said the annual flood outlook by the Nigerian Meteorological Agency (NiMet) and Nigeria Hydrological Services Agency (NIHSA) had placed Niger State on red alert.
"This is because the state has been identified to be among the highly probably flood risk states.
"The implication is that huge flood is expected in the state.
"This sensitisation is for people to take early measures against impending flood which causes pain, untold hardship, destroys lives, livelihoods and people's wealth such as farmlands," she said.
Sai'du said that the sensitisation was for people in flood-prone communities to brainstorm and come up with measures to prevent and reduce losses as well as the negative impact of the flood.
Ndanusa, while presenting a paper entitled "A call for a Community Based Flood Risk Reduction Against the 2023 Impending Flood", said the flood would affect urban and rural dwellers who reside along river banks.
She said that the flood was predicted to occur in Niger State from August to October.
"It is expedient for traditional and religious heads across the state to key into the risk reduction approach in order to reduce or mitigate the danger ahead.
"NEMA in Minna calls on these community leaders to identify drainages and culverts that are blocked to be cleared.
"They should also sensitise people who have built on flood plain and those living on river banks to relocate to safer and higher places," Ndanusa said.
District Head of Maikunkele, Alhaji Abdullahi Dada, thanked the agency for its continuous support to the communities by sending out early warnings for them to prepare ahead of flood to reduce losses.
In his remarks, Alhaji Yahaya Gbongbo, the state Director of National Orientation Agency (NOA) in Niger, advised members of the community to always resolve issues affecting them in a peaceful manner.
He said that the mandate of the agency was to preach for peaceful coexistence.
In their separate remarks, Yusuf Manta and Mohammed Usman, both members of the community, expressed appreciation to the agency for the early warning signal.
They appealed to the agency to always be available to attend to complaints from victims of flood and render necessary assistance.
They also urged NEMA to support flood victims from Manta community who have relocated to Maikunkele community as well as address the activities of distillation among women in the area