Naomi Gabriel —
The Coordinator of Abuja Metropolitan Management Council (AMMC), Federal Capital Territory Administration (FCTA), Umar Shuaibu last week cautioned residents of Abuja, against activities that lead to environmental degradation.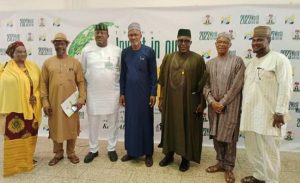 He made the call at the commemoration of 2023 World Earth Day with the theme: "Invest in our planet" held in Abuja, the Nigerian capital.
Shuaibu decried the unending distortion and destruction of the Abuja Master Plan by some residents of the nation's capital.
He said illegal felling of trees, building on water channels and road corridors have distorted and destroyed the plan for development of Abuja.
Earlier, Mr Tunde Imolehin, Senior Special Assistant on Environment and Waste Management to the Minister of FCT, said the objective of the commomeration of World Earth Day in FCT was to guide residents on how to dispose of their waste properly.
"To make our stay in this planet meaningful, we must invest wisely. We must take proper care of the environment, conserve and preserve the limited resources.
"The world earth began in 1970 in the United States to highlight the importance of our planet and the conservation of its ecosystems on all continents and oceans.
"Since then, the world's attention has been drawn to the challenges facing mankind and the environment and ways to manage them".
In his presentation, the Director, FCT Department of Development Control, Mukhtar Galadima, disclosed that over 10,000 illegal structures were demolished in the last eight years in the FCT.
He also revealed that 300 hectares of land was recovered as the administration's commitment to restore sanity in the territory.
Galadima said the measure was pertinent to reverse the norms affecting the officials from restoring the master plan and sanity across the city.
He called for the review of the development plan of the city, which according to him, a consultant should be engaged to drive the reforms.
Mr Ikharo Attah, Senior Special Assistant to the Minister of FCT on Monitoring, Inspection and Enforcement, suggested that the Directorate of Road Traffic Services, known as VIO and the Federal Road Safety Corps (FRSC), should be carried along as critical stakeholders.
"There are many rickety vehicles, motorcycles emitting smoke that are destroying the ozone layer. Everyone of us must be involved in tree planting and must not be deterred to protect and secure the plants."
He, however, urged residents not to build on concrete jungles by destroying the green areas.
"The planet is getting very hot, we must start to change the narrative so that our children will not pay for the destruction we are doing to the earth," Attah said.