Fatimat Haliru —
The Federal Government through the Minister of Water Resources, Mr Suleiman Adamu yesterday called for more innovative ideas and partnerships that would help to accelerate progress in scaling up sanitation and hygiene in the country.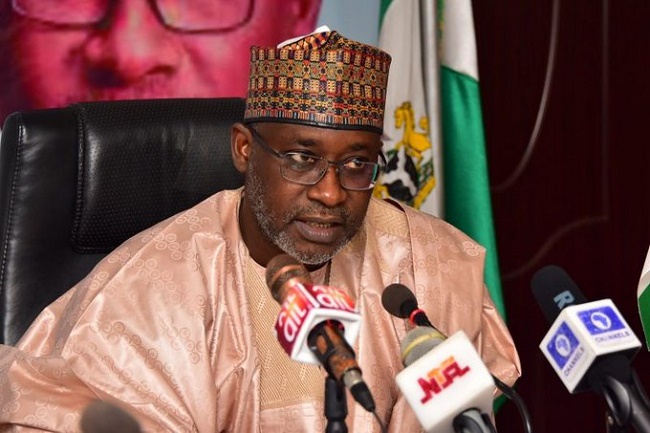 This was the focus at the National Task Group on Sanitation (NTGS) meeting, a coalition of stakeholders working in the water and sanitation sector in Abuja.
Adamu, said the role of innovation could not be overlooked, following recommendations from all experts as a necessity to changing poor narratives in the sector.
While commending NTGS members for their tenacity in validating former open defecation communities to become open defecation – free, Adamu however urged them to be steadfast and credible in their efforts.
According to him, efforts are on to introduce the School, Health and Youth Water, Sanitation and Hygiene (WASH) programme through their parent ministries so as to scale up sanitation in the country.
:FG Inaugurates Implementation Committee on Ecological Intervention Project
:FG Reiterates Commitment to Flood Control
Adamu said findings from the WASH Normal Routine mapping showed low progress on defecation-free local government areas.
He said with collective efforts, the negative indices would be reversed, for the overall good of the country.
Mrs Chizoma Opara, National Coordinator, Clean Nigeria Campaign Secretariat, said efforts were on to train information officers on its activities so as to promote awareness for the populace.
Opara said Nasarawa State has shown major progress in its implementation of the Community Led Total Sanitation (CLTS) Plus programme, with 11 local government areas currently being supported.
Dr Jane Bevan, UNICEF Chief of WASH, said there was need for introduction of subsidies for most vulnerable persons in communities, so as to improve their wellbeing.
:FG Advocates Functional Physical Planning Standards
According to Bevan, this could be introduced during the triggering stages of CLTS processes in the communities.
"We are thinking about introducing subsidies to encourage vulnerable people to build their toilets, we are working to do this through introduction of loans in Bauchi and Oyo states," she said.
Highlight of the meeting was the introduction of new consultants to work on the development of a National Social and Behavior Change Communication Strategy and a Strategy for Scaling Up Sanitation Market in some states.
Poor sanitation is costing the country the equivalent of $3 billion annually, or 1.3 per cent of its GDP, in productivity losses, deaths and healthcare expenses.
For Nigeria to be on track to achieve SDG 6, new and innovative sanitation solutions must be provided and a whole sanitation economy developed.