Kingsley U N Chikwendu —
The wife of Lagos state Governor, Mrs Ibijoke Sanwo-Olu, yesterday in Lagos, during a three-day workshop on Regulating Urban Sanitation Services: Faecal Sludge/Wastewaste Management Guidelines and Standards, said that daily, the state generates 2.2 million cubic meters of untreated domestic wastewater.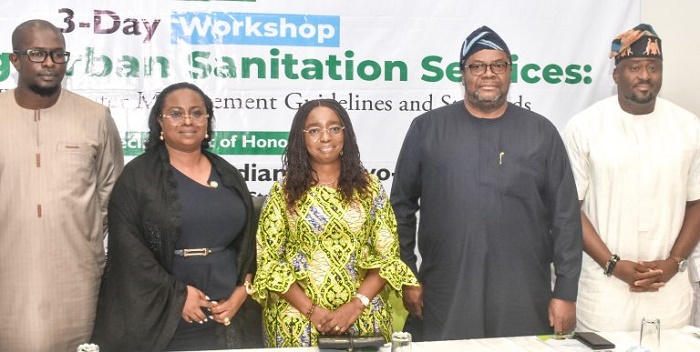 Sanwo-Olu said the 2.2 million kilolitres of untreated domestic wastewater generated daily was based on the 120 litres of water used per person, per day.
While revealing that with a population of over 20 million and annual growth of 2.9 per cent, she admitted that sanitation management was currently a challenge in the state.
She also stated that the dire situation on ground calls for all hands to be on deck, which will ensure effective and efficient regulation of faecal sludge management, would help in safeguarding the environment and protecting water resources of the state, and mitigating events of waterborne diseases.
"As a Medical Doctor, I am conscious of the fact that all waterborne diseases are deadly, she said.
"Experts have also established that there is an unbreakable relationship between health and the environment. They are both intertwined!
"As a matter of fact, the negative impact of inadequate and improper regulation of faecal sludge management on the health of people in general and children, in particular, is crystal clear and well known.
"Diarrhea, for instance, is the second largest killer of children below 5 years in Nigeria, only next to Pneumonia. According to the World Health Organisation (WHO), 88 per cent of diarrhea cases are attributable to factors essentially originating from poor management of excreta disposal", Mrs Sanwo-Olu said.
She added that without effective regulation, the dreams of having a livable, healthy, safe, and secure environment would continue to be a mirage.
The governor's wife said that there must be a structured and sustainable arrangement in place to regulate and properly manage the faecal sludge value chain, starting from the collection, transportation, treatment and disposal, which in turn would yield both economic and environmental benefits to the state.