Aminat Yahaya —
The Nigerian government last weekend in Abuja, the Nigerian capital, inaugurated a nine-member presidential committee to implement Nguru Ecological Intervention Project in Yobe State. It urged stakeholders to support government's commitment in addressing environmental issues.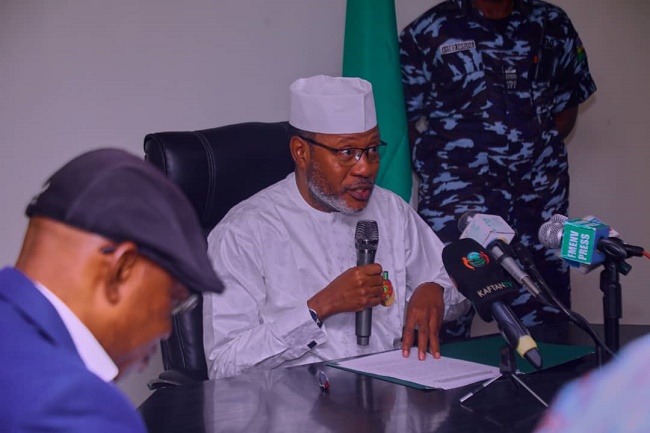 Minister of Environment, Mr Mohammed Abdullahi said the Federal Government was committed to tackling climate change and environmental challenges, food security, and other socio-economic problems across the country.
You can also read:
:FG Indebted to Bridging Infrastructural Deficit — Fashola
:FG Reiterates Commitment to Flood Control
Abdullahi commended Emir of Nguru, Alhaji Mustafa Kyari, for requesting for ecological funds to mitigate climate change impacts and restore degraded lands in the area.
He said the government was dedicated to improving the general wellbeing of the people, adding that it was being clearly demonstrated through various policies, programmes and initiatives by the ministry.
"It is also being demonstrated by President Muhammad Buhari's directive to the effect that this committee should be established, he said.
"However, we acknowledge the fact that government alone cannot do it, collaborative partnerships of all stakeholders, including our Royal Fathers, are critical.
"It is thus heart-warming that what is happening today is at the instance of a royal father.
"I am, therefore, particularly excited about the concern and zeal of His Royal Highness, the Emir of Nguru, to identify with our vision.
"The effort is to make life better for the generality of our people through degraded lands restoration, mitigation of climate change impacts as well as improved livelihoods," he said.
The minister recalled that the Emir of Nguru, on behalf of the Forest Farmers (Nguru) Cooperative Society, requested for ecological funds for afforestation of degraded land to mitigate climate change impacts within the Emirate.
He said that the land was cleared in 2017 through intervention of Ministry of Agriculture and Rural Development to enable implementation of the livelihood project called "Rural Agriculture Re-modelled Project Strategies".
"This request is in conformity with the vision and developmental agenda of the present administration, especially the attainment of Nationally Determined Contribution (NDC) and global emission reduction.
"Mr. President has graciously directed that an inter-ministerial committee, comprising relevant ministries and agencies be set up.
"This is in regard to consider this lofty request and come up with recommendations which must include but not limited to the modalities for its implementation and cost implications," he said.
Abdullahi said that the committee was consisted with various ministries and agencies, adding that the committee was expected to submit its report by Jan. 27.
He said that the committee should produce results that would assist in the delivery on the assignment and in the achievement of the far-reaching government policies on environment and climate change.
"I congratulate you for being counted worthy to be part of the team as we collaborate and make contributions towards safeguarding our environment and enhancement of wellbeing of our citizens.
He, however, urged the committee to ensure that the project's site was accessible for on-the-spot evaluation to identify key intervention areas.
He added that the committee should liaise and work with relevant organisations for funding intervention and give a detail plan of action, including financial implications.
He also advised the committee to ensure that a comprehensive technical report, including recommendations, was submitted to him accordingly.