Naomi Gabriel —
The Bayelsa State Government last Wednesday said it has designated both sides of the Gateway Road as a planning area to prevent disorderly development of structures.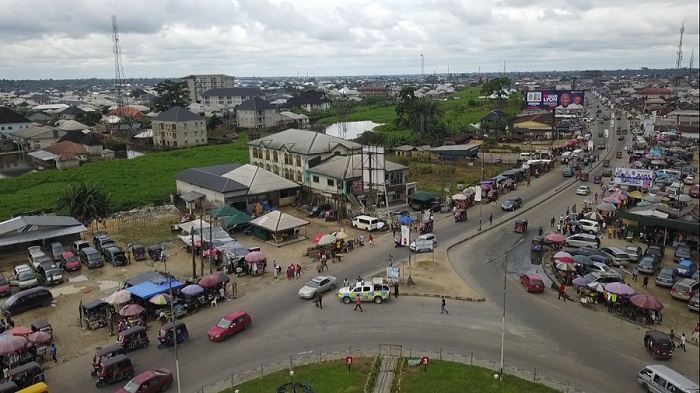 Deputy Gov. of Bayelsa, Lawrence Ewhrudjakpo disclosed this at a stakeholder meeting in the state capital, Yenagoa.
The meeting which had in attendance the Ministry of Lands, Housing and Urban Development, Office of the Surveyor General, and the Bayelsa State Physical Planning and Development Board had Ewhrudjakpo addressing stakeholders on the government's plans to map out land from Igbogene to Onopa on the phase two of the new Yenagoa Gateway Road as a planning area within the state capital.
Also Read
:PANDEF Commends Bayelsa Govt on Infrastructural Development
:President Buhari Sympathizes With Bayelsa State Flood Victims
He said that Yenagoa was supposed to be a cynosure of Bayelsa but, had yet to achieve the beauty due to uncoordinated construction of buildings everywhere.
According to him, government and the various communities including land developers, are to blame for not implementing the original Yenagoa city master plan over the years.
The deputy governor said that the lawlessness had resulted in the present chaotic structural status of the state capital.
He further said that government's intention was not to acquire all the land in the designated area, but to map out roads and allocate areas for specific public utilities to ensure orderly and planned development.
To achieve this, Ewhrudjakpo said that an 11-man technical committee would be set up and chaired by Mr Gideon Ekeuwei, the Executive Secretary, State Physical Planning and Development Board.
"The committee comprises five representatives from the communities, and six officials from the ministry; the Physical Planning and Development Board; the Surveyor General's office and the office of the Attorney General and Commissioner for Justice", he said.
The Commissioner for Lands, Housing and Urban Development, Mr Andrew Esau, gave assurance that the people would have right and access to their land, adding that government's interest was to regulate development in the area.
Also, Ekeuwei said that government needed the cooperation of the various communities to successfully carry out its urban development plan.
However, all the traditional rulers present at the meeting endorsed the decision of government.
The traditional rulers commended the present administration's development strides and called for adequate sensitisation campaigns in all the affected communities to enable the people understand the good government plans for the area.