Aminat Yahaya —
The Presidential Committee on Flood Prevention Action Plan has reiterated that the Nigerian government was committed to nationwide flood control.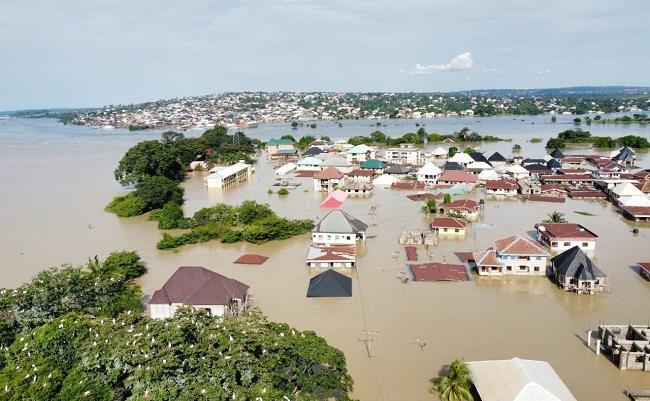 The committee said that, in view of this, the Federal Government was making frantic efforts to ensure that unnecessary instances of flooding were permanently controlled nationwide.
Malam Ali Ibrahim-Dalla, the leader of the presidential committee, revealed this during an inspection visit yesterday to some flood prone communities in Yola, the Adamawa State capital.
According to Environews, Ibrahim-Dalla said the committee had visited the 1.8 billion cubic metre capacity Kiri Water Dam in Shellang and the Dasin Hausa Dam in Fufore Local Government Areas.
He explained that the dams which contribute to flooding in the communities would be recommended for erection of dykes and additional embankments.
He also said that the water coming from the Lagdo Dam in the Republic of Cameroon would be dammed and provided with spill passages to prevent unnecessary flood
"The committee has the time frame of 90 days within which to complete its assignment and submit a report on its findings and recommendations," he said.
According to him, the mandate of the committee is to visit the flood prone areas, identify causes and recommend to the Federal Government some of the remedial measures to prevent flooding.
Earlier, the Managing Director of Upper Benue River Basin Development Authority, Mr Abubakar Muazu, attributed the cause of flooding to indiscriminate human activities.
He said deliberate acts of cutting trees, erection of structures on waterways, climate change, vegetative cover, undredged dams, and environmental abuse were some of the factors causing flooding.
Muazu said enforcement of environmental laws and construction of additional dams would help address some of the flooding challenges.
According to him, about four additional dams are needed to be built in Taraba.
"No fewer than 17 million hectares of land were submerged by flood nationwide in 2022 which is 57 percent of what happened in 2012 in which 30 million hectares were affected," the committee chairman said.
Dr Aminu Suleiman, Executive Secretary, Adamawa Emergency Management Agency (ADSEMA), said that a total of 180,000 people were affected by flood across the 21 LGAs in the state in 2022.
He said that 70 percent of crops and farmlands were destroyed, 58 lives lost and 71 injured, with 15 lives lost in Madagali Local Government Area alone.
"The state government has spent N350 million in resettlement and provision of relief to the victims," the executive secretary said.
He commended the Federal Government for inaugurating the committee, saying it would make significant impact in mitigating the menace of flood nationwide.
The committee had visited traditional rulers in the affected communities to brief them on their presence in their domain.