Disasters are typically sudden. They are destructive. When they occur they alter existing social and ecological systems.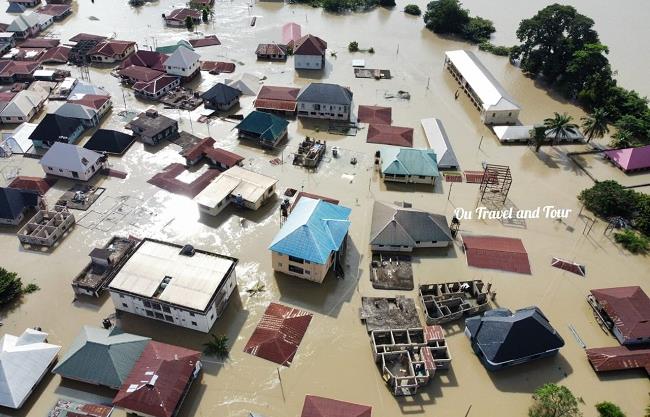 However, with an effective response mechanism, the damage they cause can be minimised.
Flood disasters have been enormous in 2022, perhaps the worst in recent years after a similar devastating experience in 2012.
Mitigating the effects of disasters and offering useful early warning signs call for serious collaboration, says the National Emergency Management Agency (NEMA).
To enhance NEMA's efficiency, the United Nations Office for the Coordination of Humanitarian Affairs (UN-OCHA) recently offered to collaborate with the agency, in particular, to provide support to communities affected by the 2022 floods in the country.
But the agency said this is not enough as it seeks partnership from other stakeholders to sustain the existing working relationship at the federal, state, local government and community levels in disaster management.
Speaking at the Presentation of Disaster Risk Management Implications of the 2022 Seasonal Climate Prediction and Annual Flood Outlook in Abuja NEMA Director-General, Mustapha Habib-Ahmed, said all hands must be on deck for effective management of emergencies.
"It has become imperative for individuals and state governments to take responsibility for contributing to disaster management and not to abandon everything to the Federal Government.
"This is why in NEMA we always say that disaster management is everybody's business.
"In 2012, the country was seriously impacted by a devastating flood that affected many lives, communities and the environment across the 36 states and the Federal Capital Territory.
"The experience of that year became a significant turn-around in the country's approach to flood preparations.
"This has been evidenced in the preventive strategies adopted afterwards that reduced the impacts of the subsequent flooding that occurred'', Habib-Ahmed said.
He commended the Nigerian Meteorological Agency (NiMet) and the Nigerian Hydrological Services Agency (NIHSA) for providing the necessary information on impending flood disasters.
In 2018, the Nigerian Air Force (NAF) had also promised to collaborate with NEMA in managing flood across the country.
NAF promised that officers and men in the force would give NEMA all the support it needed to perform its roles in flood management.
The human and material losses caused by flood disasters this year alone make such collaborations imperative.
Minister of Humanitarian Affairs, Disaster Management and Social Development Sadiya Farouq, in October said that 612 people had died in 2022 and 2,776 others injured in various flood incidents across the country.
According to her, thousands of houses and hectres of farmlands had been destroyed while no fewer than 1,427,370 had been rendered homeless and needed assistance.
She however, commended the affected communities for their resilience adding that the ministry had received a report that in 144 Local Government Areas, communities cooperated to provide the first response to victims.
"The Search and Rescue Team, which is responsible for evacuating people and providing life-saving first aid and medical support and referral to hospitals had so far been able to reach 199 local government areas within 25 states," she said.
But the NEMA boss believes that some disasters could be averted if stakeholders and individuals are proactive in their efforts.
"The local government should be the first respondent followed by the state and if it is beyond what the state can handle, the federal government can then come on board.
"But it is surprising that if there is any disaster, local government and states look up to NEMA without first providing preliminary support and the manpower and resources at the disposal of NEMA are nothing to write home about," she said.
Experts say intervention efforts will not yield desired results unless proactive measures are institutionalised in disaster management.
Prof. Mansur Matazu, Director-General, Nigerian Meteorological Agency (NiMet), said that there was need to enlighten the public to take action towards disaster prevention.
He said the public should be educated on proper disposal of rather than indiscriminately discarding them as well as other environment-friendly behaviours such as tree planting.
According to him, government should not only enact laws to encourage such behavior but also ensure that those that contravene such laws are punished.
The Senate Committee on Special Duties has also lent its voice for more institutionalised and collaborative efforts towards disaster mitigation in the country.
The committee made the recommendation when its members visited NEMA on an oversight visit in August.
The Chairman of the Committee, Sen. Yusuf Yusuf, called for strengthening NEMA's capacity and operations and well as proper investment in disaster management.
However, Prof. Jaiye Dukiya, a lecturer with the Centre for Disaster Risk Management and Development, Federal University of Technology, Minna, has urged the Federal Government to establish and implement flood mapping and insurance policy.
Dukiya said the policy would discourage people from building on flood ways, which could obstruct water flow
He said if implemented the policy would reduce federal governments' burden of providing relief items to affected flood victims.
"The idea of giving relief all the times is not applicable in other countries.
"In the United States of America for instance, if you build on a flood plain, your insurance premium would be high because you chose to build there.
"So if you do not want to pay premium, you will not build on those locations.
"When government does mapping and create insurance a policy like this, everybody will think twice before building houses," he said.
News Agency of Nigeria (NAN)