Aminat Yahaya —
The Borno State Governor last Wednesday while presenting the 2023 Budget to members of the State Assembly, said the state is to plant five million trees in 2023.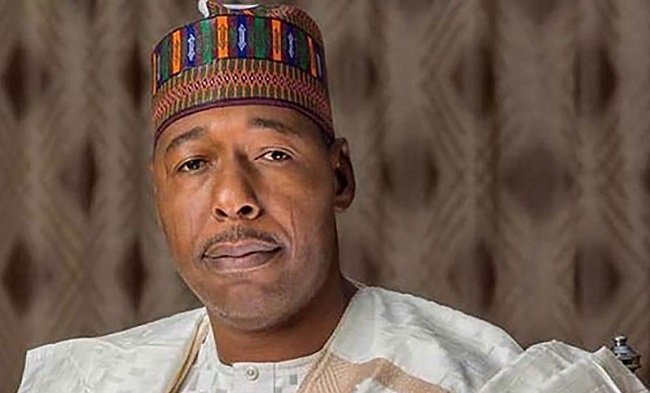 Zulum, who lamented the delay recorded on this year's tree planting campaign, said preparations have begun in earnest for the 2023 exercise.
"The Ministry of Environment was created by the State Government to proffer solutions to environmental problems ranging from deforestation, desertification, soil and land degradation, floods and soil erosion as well as solid waste management.
"Mr Speaker, during the period under review, Government distributed thousands tree seedlings of assorted types to control desertification as well as restore the vegetation lost as a result of climatic factors.
"In addition, government undertook free distribution of different types of seedlings to schools, communities and individuals to plant and protect the environment and improve the green culture.
"Mr Speaker, as a measure to stop desertification as well as provide wind breaks and shelter, the ministry of environment undertook the planting of trees at the Borno State University Teaching Hospital along Damaturu road in the State Capital," Zulum said.
He also said that in an effort to discourage the use of firewood, the ministry also distributed "wonder box" (coolers) to women for use in cooking.
Zulum said the state government in collaboration with the World Bank assisted NEWMAP project undertook measures aimed at the control of flooding and erosion in Gwoza and the desilting and evacuation of drainages in Maiduguri and environs in 2022.
He also noted that the Borno State Environmental Protection Agency (BOSEPA) conducted fumigation to curtail the outbreak of diseases such as malaria, cholera etc across the State as well as approved new site for safe disposal of solid waste in the state capital.
The governor, who spoke on livestock and fishery development in 2020, said his administration had undertaken routine vaccination of animals against preventable disease and renovated the international fish market as well as paid counterpart funding for livestock productivity and resilience support project of World Bank.
"As part of our livestock resuscitation programme as well as providing livelihood support to the vulnerable in the society, government in collaboration with the UNDP distributed over 3,000 assorted herds of cattle and goats to returnee IDPs in Mafa LGA.
"The state in partnership with the Federal Government is establishing Three Ruga Centres in the state," Zulum said.