Gabriel Enenche —
An autonomous community in Abia State last Monday in Umuahia, the state capital, appealed to the Nigerian government to quickly come to its rescue from the devastating impact of gully erosion.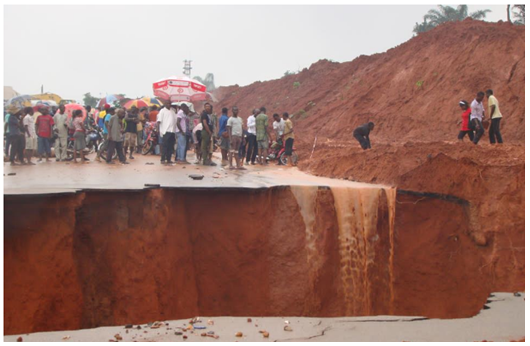 The Ohabiri-Umuchime-Amanso Autonomous Community through its Traditional Ruler, Eze Iheanyichukwu Ezeigbo made this plea while addressing newsmen on the gully and the damage it caused the community.
While disclosing that they were living in fear due to the ravaging effects of the gully, Ezeigbo added that the menace also posed serious threat to the Orieorji/Umuchime/Afara Road, as well as residential buildings in the community in Umuahia North Local Government Area. "The road plays a vital role in facilitating the socio-economic development of our area", he stated.
A signpost in the area indicated that the Federal Ministry of Niger Delta had awarded the contract for the construction of the road. However, there were no signs of construction works presently going on at the site.
"This road is important to the community because it leads to Bishop Nwedo Secondary School and housing estates.
"It also connects the villages that make up this community. Imagine the present state of the road. It was not like this in the past. "The condition became worse with the activities of the contractor.
"He started work without proper analysis of how best to channel storm water to the community stream. This is why each time it rained, the road becomes totally impassable", he further revealed.
In addition, Ezeigbo said the flood usually threatened to pull down residential buildings in the area. He therefore, urged the State and Federal Governments to deal with the menace expeditiously before the next rainy season.