Gabriel Enenche —
Yesterday, during the inspection of ongoing works at the proposed Timberville, Agbowa, the Governor of Lagos state, Babajide Sanwo-Olu said the Okobaba Sawmillers in Ebute-Metta would possibly be moved to the area being inspected, by December.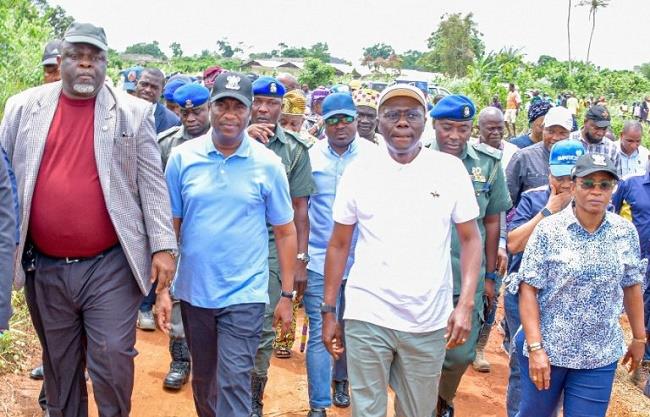 While admitting that the project was conceived quite a long time ago, but his administration was determined to complete it, for the good of the state's economy, the governor said his administration had completed a total of 160 two-bedroom flats, as part of the facilities that were available for the potential Okobaba Sawmillers that would be occupy the Timberville, Agbowa.
"We are happy that, within our government, we activated it back and we have spent a lot of money resource to be able to bring it to a usable and convenient situation, Sanwo-Olu said.
"Part of the facilities that are here is for the potential Okobaba Sawmillers that are coming here, we have got a total of 160 two-bedroom flats that have been completed.
"We have offices that runs into tens. One of the things that we need to do now is extensive clean up, and to be able to put a police post and a small fire service here.
"So the sawmillers are actually just waiting for us to clean up, to ensure that the place is fully habitable for them to start to move, we have all agreed completely, and in terms of political, we have 110 per cent political will to complete the project", the Governor added.
Sanwo-Olu also said that Timberville has a plant where byproducts coming out from the mill, from the saw dusts, would be treated for reuse, so that nothing would be wasted.
"We have told the contractor, once we have made additional funding available, we are hoping that, before the end of this year, we all should sing hallelujah, and bring everybody down here.
"We will complete this project, we will relocate all of our sawmillers from Okobaba to Agbowa Ikosi, purpose built for them. This place is massive, it is the first of its kind, I dare say in the whole of West Africa, because this is purpose built for sawmillers," he said.